April 1, 2017 by: Ted
Stuffed French Toast Recipe
Stuffed French Toast

Serve with real maple syrup. Very filling. Depending on dietary restrictions of guests, low fat cream cheese and low fat ricotta cheese can be substituted.

Ingredients:
Loaf French Bread, about 5 inches across. Partially frozen.
8 oz cream cheese
8 oz ricotta cheese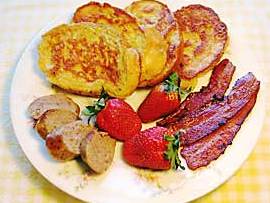 1/3 cup chopped pecans
1/3 cup apricot preserves
1/4 teaspoon maple flavoring
1/4 teaspoon rum flavoring
4 eggs, lightly beaten
2/3 cup milk
Butter to grill the french toast on a stove top griddle.

Directions:
Cream the ricotta and cream cheese in a mixer. Add the preserves, mix; then the nuts, mix; finally add the flavorings. Beat. Put aside or refrigerate in covered container up to one week. Slice off ends of bread at a diagonal to expose more bread. Slice the rest of the bread 1-1/2 inches wide at a diagonal. Cut two slices of bread per person. When all the bread is sliced, take a smaller knife and make a slit in the middle of each bread slice to make a pocket. Put about one tablespoon of filling into each pocket. Set aside until all 8 slices are filled. Cover with plastic wrap. Mix beaten eggs and milk together in bowl. Pour into glass pan that can hold all the bread slices. When you are ready to grill the bread, place the bread slices in the pan for about 7 seconds each, turn the bread over and be sure to dip the sides of the bread also. Melt the butter on the preheated stove top griddle. Fry each side until golden.



Recipe Summary:
Yield: 4 persons
Prep Time: 30 minutes
Cook Time: 2 to 3 minutes per side
Other recipes by Poplar Creek Guesthouse:
Carla's Saute'd Peaches
Maple Baked Stuffed Pear
Baked Finnish Pancake
Cranberry Muffins