May 1, 2016 by: Ted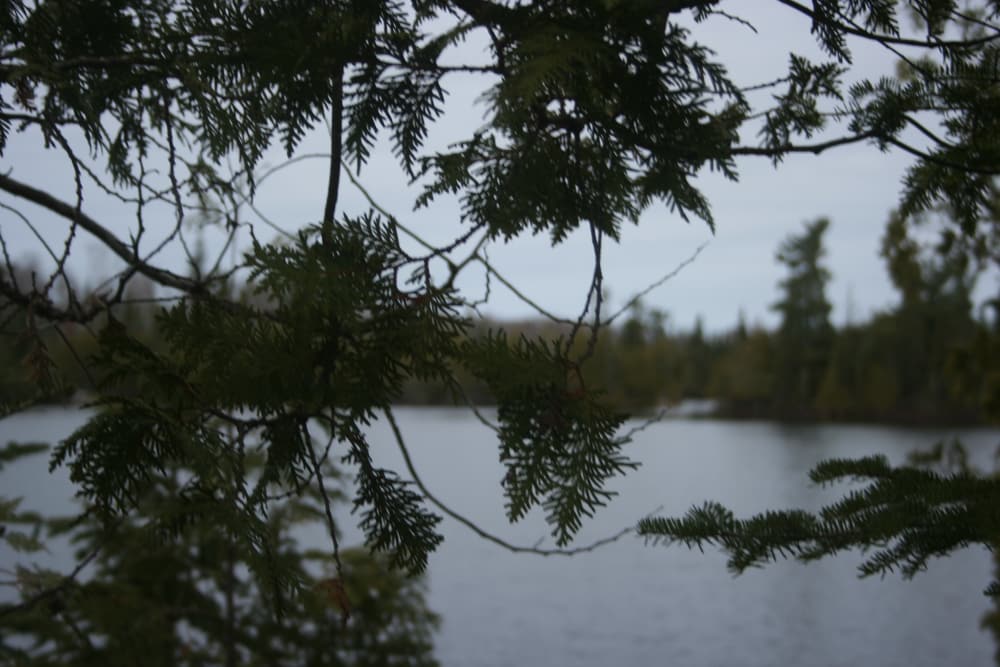 Spring along the Gunflint- Not quite but it is Getting Close
Big News- Poplar Lake's ice covering is gone along with most of the mid-size lakes' ice in the mid-trail area. The spring bird migration is on. Ducks are back and swimming around in the open water. Wonder if they get dizzy. While geese might have flown through, we have not seen them yet. Most of the snow is gone except in shady spots in the woods. The trees have nice buds but it is way to early for leaves. Unfortunately there are a lot of downed and bent over trees and brush from last December's heavy wet rain/snow fall. Just so you know - those of you planning to open your cabin this spring; if you have much of a driveway to get-in you might want to have saws along in case you have to do a little clearing of last December's storm debris. Photo of Little Ollie Lake take right after the ice went out and looking towards the inlet from Poplar Lake.

On Poplar Lake- Rockwood Lodge and Canoe Outfitters has been sold to Carl Madsen and Stephanie Lightner from the Twin Cities along and Stephanie's sister and brotherlaw – Carol and Mike Seim from Detroit Lakes. Among the new owners first project's was ordering new mattress and box springs to replace the ones that have been the cabins. They also are converting Mike and Lin's former home at the west end of lodge's property into a rental cabin and Carl and Stepanie are moving into the staff quarters. Carl and Stephanie will be spending their winters at the lodge. During the summer they will be joined by Carol and Mike. Best of luck to the new Rockwood owners and we will miss Mike and Lin who now live in Lanesboro, Minnesota.
Most of the trails restaurants will not be re-opening until early to mid may. The exception is Gunflint and Windigo.which are open yearround.
One of the exciting event this spring is the opening of Big Bear Lodge's Dancing Bear Café in mid –May. According to Andy Delisi, Big Bear co-owner, the new restaurant is "featuring house made items, lunch [11am-4pm] and dinner [5-9pm], Thursday through Sunday with seating in the lodge and 3-season porch overlooking Poplar Lake, midway up the Gunflint Trail. Our menu will change with the seasons but here is a sampling of the spring/summer menu including: Bone marrow with cheesy fritters appetizers, Grilled peach flatbread with arugula, goat cheese and herb spread, Grilled Lamb Kebabs with artichoke risotto, Poblano Crab Cake w/ succotash cream sauce, Honey Bourbon baked custard."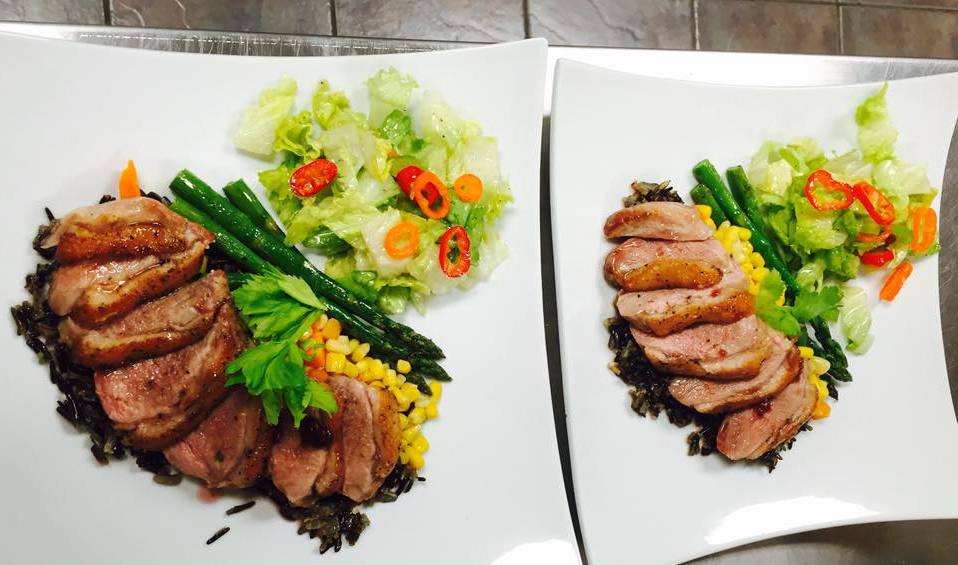 The restaurant chef is John Barton, who has been a cook at Trail Center and other eateries around the country. Photo is of one of Barton's creations -pan seared duck breast with a white wine, wild honey and grape reduction over Minnesota Wild rice, corn and asparagus. Side salad with a maple vinaigrette.
Of course Ida will still have pizza available.
Windigo Lodge is undertaking a major inside remodeling . The bar has been moved into the former dining room area and the old bar room will be used as a game room along with some dining table. Also the front entry and stairs up into the restuarant, now features pine panelling. Randy Eckroot did the work and he did a great job. According to Windigo's manager Cassey additional staff, including a cook, are on the way.
Trail Center's Owner/manager/and all around kitchen help Sarah -usually spends her off season redecorating the restauranat. This year she informed us she was not going to do anything new with the restaurant. So we were surprised to learn that Sarah is actually replacing all the table with beautiful new locally built tables. More importantly Sarah has been spending an enormously amount of time helping to remodel the Beaver House for Tyson who is taking it over. Way to go Sarah and you are always there when someone needs help.
Among the events coming up this spring are:

Ham Run- - May 7- a 5 kilometer fun, sustainable event run along the scenic Gunflint Trail. This event coincides with the anniversary of the Ham Lake fire. All participants receive a goodie bag, t-shirt and tree seedling. Participants must be checked in by 9:30am. There will be food, live music, and massages available after the race.For more information go to Ham Run..
Tree Planting – On the Gunflint early May is a great time for tree planting- it is before the bugs come out and the weather is not too hot. Any trees you intend to plant should be for our Boreal and Northwoods climate.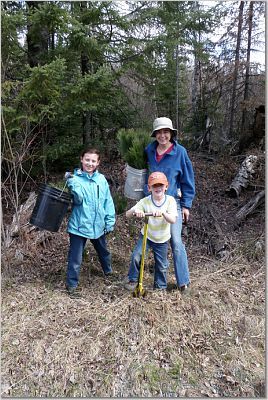 Gunflint Annual Trail Cleanup- Organized by the Scenic Byways Committee where businesses, cabin and home owners joining together to clear assigned sections of the Trail from the past year's accumulation of trash. While most of Business have already taken many of trail sections there are still many portions of the trail that have not been assigned to anyone. So please volunteer to help with this year's the trail cleanup.The Pick up of trash by the county Highway Department is scheduled for Thursday, May 26. This Trail Cleanup coordinator is Barbara Young. She can be reached by phone at 218-388-4487. Barbara will be posting the trail section assignments on Thursday, May 5th.
Fishing Opener- May 14 – from what we see there are a lot of people headed south from Poplar lake who are after those walleyes in Caribou and big lake trout and northerns in Winchell.
Boundary Waters Expo - Saturday, June 11, 2016 - Sunday, June 12, 2016 All Day, taking place at the Seagull Lake Public Landing-This is a family-friendly, hands-on event with fun for everyone. Come enjoy the place that National Geographic has named one of the world's "50 Places of a Lifetime." Your Boundary Waters Canoe Area Wilderness adventure starts here! The event includes: canoe country exhibitors and equipment, speakers, hands on demonstrations, campfire storytelling, a shrimp boil and bake sale, food and more!
.For more information go to Boundary Waters Expo.



Planning to take-in either of these events and you are looking for place to stay- Poplar Creek Guesthouse B&B and Cabin still has some openings.