June 5, 2016 by: Ted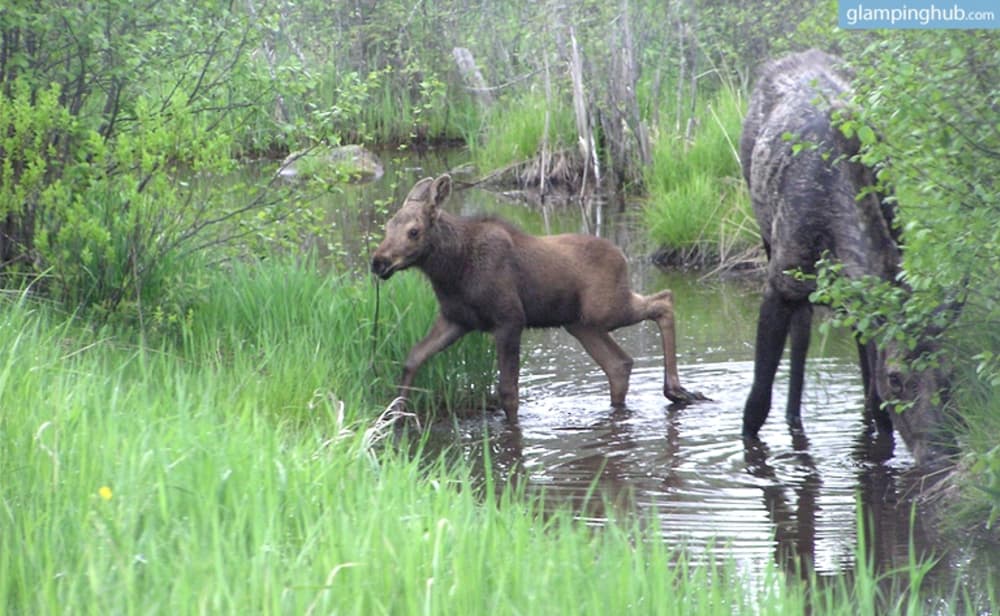 Poplar Creek Courier Newsletter of Boundary Country Trekking June 2016
Early summer along the Gunflint Trail

The mid –Gunflint area, where Poplar Creek B&B is located, has taken on a beautiful early summer look. Within a couple of weeks, the White Birch has gone from just a few little leaves to fully leafed-out. (photo below on left) Meanwhile the Aspen are lagging a little behind with young smaller leaves, but they a coming along. The Conifer trees, which grow each year through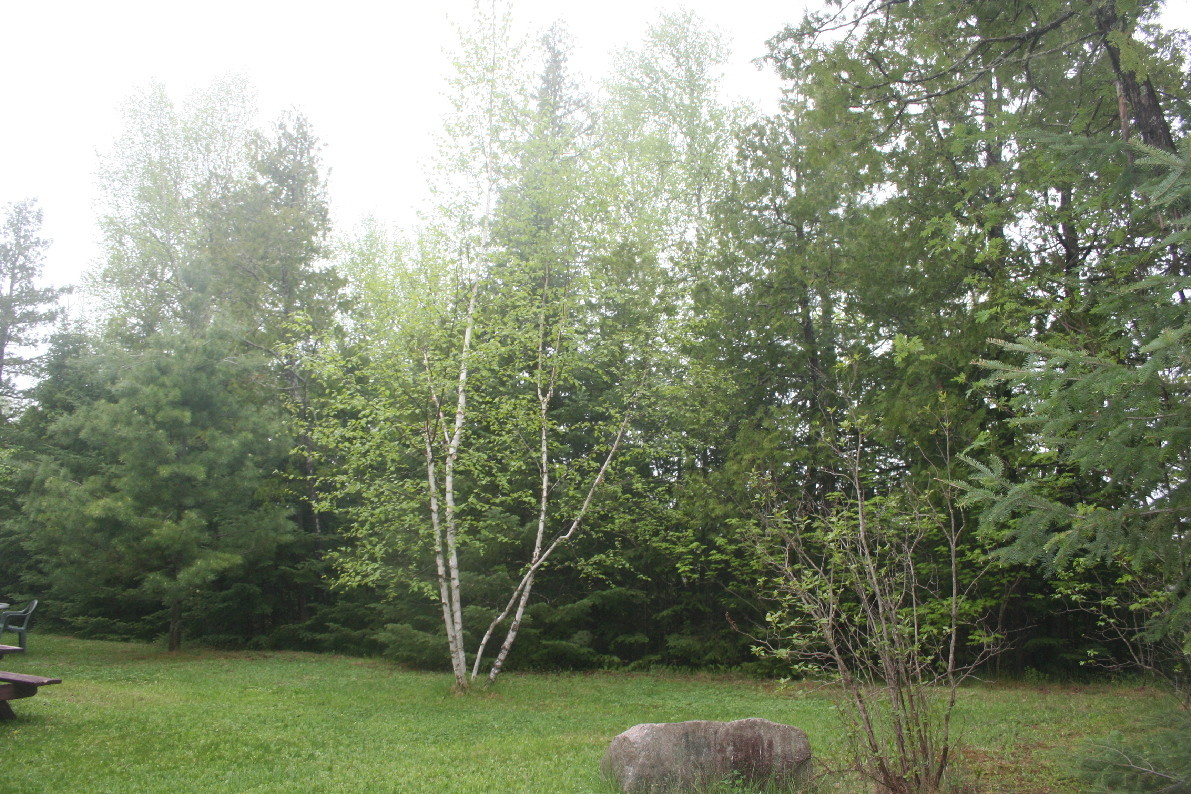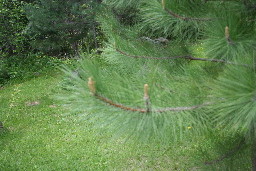 "candling" (photo of red pine on right) where new growth is added at the end of the branch, are just beginning. Eventually the White and Red Pine's candling will reach six or more inches. The spruce candling is not quite as far along. Adding to the new "greening" in the neighborhood is the blossoming of the cherries and elderberry.

The Gunflint Trail's Family Run Resort - Sixty Years and Counting

There are Four resorts along the Trail that have been owned and operated by the same family for a least seventy years - Trout Lake, Nor'Wester, Gunflint and Hestons.
.
Trout Lake Lodge- In the spring of 1946, Bud and Charlet Kratoska moved from Chicago to Trout Lake with their 2young daughters, a 32 volt light plant, the batteries and all their worldly belongings. After a lot of trial and error, Bud got electricity to the cabins. There was wood to cut for heat. In the winter, ice blocks were cut from the lake for summer cabin ice boxes. Cabins were built by hand tools. The boat house/work shop was converted to living quarters. A party line connection was eventually added with "Ma-Bell."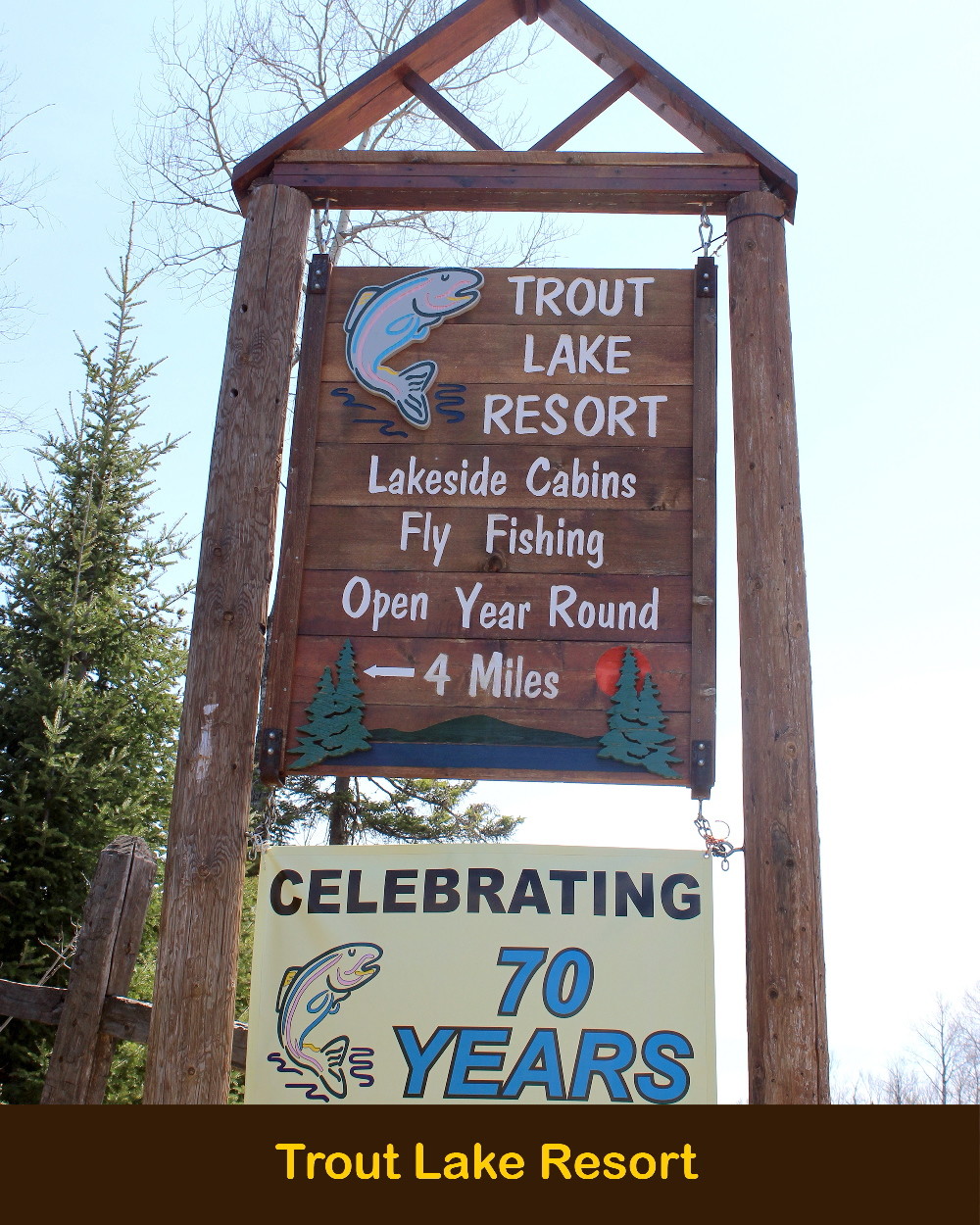 Bud was the secretary of the Gunflint Trail Association and organized the Tip of the Arrowhead to promote Cook County. Char would answer info requests, type and mimeograph a list and send it to all the businesses in the county. For years they represented the Tip of the Arrowhead at Sport Shows.
Bud worked with others to get REA in the county and in 1956 real electricity at Trout Lake and the Gunflint Trail was installed. That prompted a drilled well and cabin remodeling to add water for kitchens, bathrooms and septic tanks. Bud asked Char what she wanted for their wedding anniversary. She said "Now that all the cabins have plumbing I would like a bathroom." The ice boxes were replaced with refrigerators, the wood stoves by propane heaters and life became more comfortable.
The family grew up and moved away but always came back to Trout Lake for vacations and to help when it was needed.
After Bud's sudden passing in 1986 at 72, their daughter, Nancy Waver came home to care for Charlet and the resort. The children came home as they were able and it took a crew to make life good for Charlet, who passed at home at the age of 92.
In the spring of 2007 the lodge burned down. The rebuilding has kept everyone busy. There aren't many of the original guests returning but many of their children and grandchildren come to visit. Trout Lake has tried to keep the intimate family experience of time in the woods as their gift to guests. It is the goal of all the family to keep Trout Lake Resort- a memorable place "where time slows down. Edited copy original written by Nancy Waver

Nor'Wester Lodge- Next up the Gunflint and thirty-three miles from Grand Marais is Nor'Wester Lodge. Carl & Alis Brandt came to the Gunflint Trail in 1931 to start a sawmill. They soon realized that visitors to the area needed a place to stay. So Carl began building cabins while Alis washed laundry, and cooked meals for the many fishermen. They named their resort "Balsam Grove," a name which would stay with the resort through the next 35 years or so.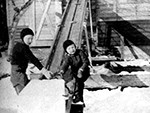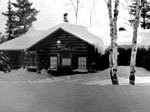 Built with native spruce and pine logs the lodge still stands today (an addition was later added). Several original diamond willow furniture pieces Carl made are found in the lodge along with furs from many of his trapping and hunting trips. (Photo on left is Brandt boys loading Ice for summer; photo on right the original lodge.)
In 1966, Carl and Alis´, son Carl, and his wife Luana, took over the resort, and in 1968 they changed the name to Nor´Wester Lodge & Outfitters. Go to Nor'Wester history for a more complete version.
Gunflint Lodge and Northwoods Outfitters was originally started in 1925 by Doris Blankenburg and her son, Russell. In 1927 the lodge was purchased by the Spunner family along with their daughter Justine (later Justine Kerfoot). After the purchase the lodge was enlarged and additional cabins built. (Photo of Justine below)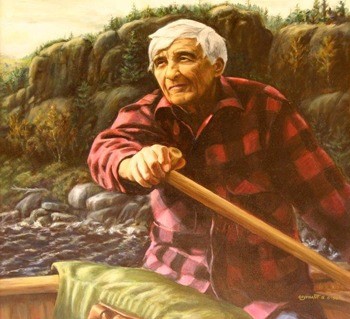 Photo of Justine by Howard Sivertson
In 1933 Bill Kerfoot, son of the president of Hamline University, arrived on the Gunflint Trail. He was eager for any job at any rate of pay. Justine took him on for room and board. According to a friend at the time, she decided he was "good with the guests." In September, 1934, Bill and Justine were married. Together they continued to expand the lodge.
In the early 1960s, several things changed—Bruce Kerfoot, Justine and Bill's son returned from the Army and came aboard as the next generation of the family to lead the business at Gunflint. Bruce married Sue in 1968. During the first years of their marriage, Justine ran the canoe outfitters -Northwoods Outfitters. That lasted only a couple of years before Bruce bought her out. Although Justine always retained a very active interest in the business, the next generation was now truly in place. Once again an ambitious young couple was running Gunflint.
Just a note on Gunflint Lodge- for the past year's Gunflint Lodge has been up for sale and it appears that the lodge is going to change hands and lodge's tradition of being operated by a member of the Kerfoot family will be lost. Click on Gunflint Lodge and Outfitters history for a complete version
Heston Lodge and Country Store - the Lodge was established in 1943 by Myrl Heston. He had come from Chicago to visit the area. At the time, he wrote to his cousin, stationed in the South Pacific. "Virl," he said, "I bought a Paradise." Myrl and Peggy, his wife, moved to this paradise, and together operated Heston's until 1971, when Myrl passed away.
Peggy continued running the lodge until 1984. Summers were filled with family, when daughters and grandchildren would come home and help with all of the jobs required of a lodging business. In the winter, Peggy was often on her own, and kept just two cabins open. It was a large task for her, but Peggy was never one to shy away from all of the hard work. When she "retired", she moved to Grand Marais and worked in various jobs. She answered phones and greeted visitors at the tourism information booth. In her mid-eighties, she took a position with the Johnson Heritage Post Art Gallery, and for many years, welcomed people to see the exhibits. Many people remember her from that post, as well as seeing her walking all over Grand Marais. Peggy passed away in 2007, at the age of 94. (photo to the rights is Peggy Heston)
In 1979, Peggy's daughter Sharlene, and her husband Chuck Gecas, moved permanently to the Trail. They ran the resort until 1989. Sharlene is still active in the business, and lives near the lodge. She spends some time in Alaska, but Gunflint Lake will always be her home. Greg Gecas, Sharlene and Chuck's son, and his wife Barb Gecas, was the next and current generation to take over operation of the lodge. Click on Heston's history for a complete version.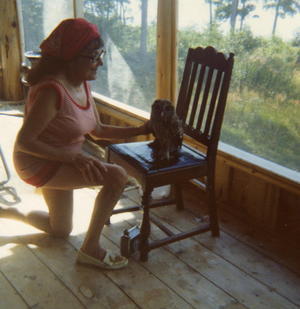 New Resorts and Canoe Outfitters on the Trail

Loon Lake Lodge formerly owned by Tom and Terry Caldwell was purchased by Derek and Andrea Hofeldt from Iowa and recently from Alaska. Derek and Andrea plan to carry on the tradition of Loon Lake Lodge including the great dining room.

Tuscarora Canoe Outfitters was purchased by Gunflint residents, Ada Igoe and Andrew McDonnell. Prior to the purchase of Tuscarora, Ada was the Director of Chik-Wauk Museum. Andy grew up on the Gunflint where his parents owned Hungry Jack Outfitters and later he worked for years at Bearskin Lodge.
Rockwood lodge has been sold to Carl Madsen and Stephanie Lightner. They hail from the Twin Cities. One of their first projects was to order new mattress and box springs to replace the ones that had been in the cabins. They also are converting Mike and Lin's former home at the west end of lodge's property into a rental cabin and are moving into the staff quarters. Carl and Stephanie will be spending their winters at the lodge. During the summer they will be joined by Stephanie's sister and brother law – Carol and Mike Siem.
Best of luck to all four new Gunflint Trail lodge owners.

Last Winter Storm Debris

This spring, after the snow melted along the sides of the Gunflint Trail from the South Brule River to Loon Lake, the ditches were littered with down trees and brush as a result of last December's ice storm. Even the phone line along the Trail, in many places, was covered with down trees including several places where the lines were laying on the ground. Thanks to the Cook County Highway Department's crews most of this litter has been cleaned up. For the most part all that remains along the Trail from the storm are some bent over brush that hopefully "mother nature" will straighten this summer.

Meanwhile resorts and property owners have been cleaning up the bottles, cans and other trash that have accumulated over this past winter along the Trail. And sometime early this summer the County's Firewise Program will be picking up additional brush stacked by resort and homeowners along their driveways and roadsides.

In Closing – Barbara Young, Poplar Creek Guesthouse B&B Writes-

Sitting in the office working on reservations and what do I hear--At least 3 flocks of geese flew over the B&B. What a thrill. It is pitch black outside. Love this time of year when birds and animals do their thing. A moose cow and two newborn calves at a nearby neighbor's house was seen, but a yearling bear cub was near so the moose moved on. They sometimes swim to nearby islands, one of which my sister in law lives on so maybe my sister in law will see them. It is getting late. Time for popcorn!
I talked to my brother-in-law the next morning. He was on Moss Lake fishing trout when he came across another moose and one very small calf. He also said he has seen moose with calves on there Poplar Lake island and more moose swimming in the lake