Welcome to Poplar Creek Guesthouse and Canoe Outfitters
State of Minnesota's and local best practices health standards spotlessly clean and sanitized rooms.
At check out our rooms are totally stripped of bed linens and towels. Fresh air enters the rooms every hour via our duct system. The rooms are then disinfected and sanitized and aired out. In a few hours we bring in sanitized linens and again sanitize the bathrooms and furniture. Rooms are not rented for another 24 hours after this.
Poplar Creek Guesthouse does not provide meals. Guests can prepare their own breakfasts and other meals in the guest kitchen, located next to guest rooms.Some local restaurants are also open for take out and reservations with spacing and masks. Ask us the times and dates the restaurants are open.
The Guesthouse and is located on a peaceful lakes next to the Boundary Waters Canoe Area wilderness (BWCA). Just 30 miles up the Gunflint trail inland from the Lake Superior coastal town of Grand Marais, Minnesota. Here you find truly secluded and peaceful lodging in northern Minnesota's north woods.
In the Guesthouse are two individually furnished, comfortable rooms, surrounded by pine, birch and cedar trees. A compact kitchen and sitting area with fireplace in the Guest area. Also at this time, local restaurants have take out orders available. In the summer you can canoe into the Boundary Waters from our private dock or enjoy our hiking and mountain biking trails starting from the front door. Winter ski the Bananad Ski Trails or snowshoe also right from the front door. The Guesthouse is ideal for outdoor enthusiasts or guests looking for a quiet-peaceful getaway. The area around Poplar Creek is great for moose viewing, birding and other forest creature watching.
Poplar Creek Guesthouses is open year-round
..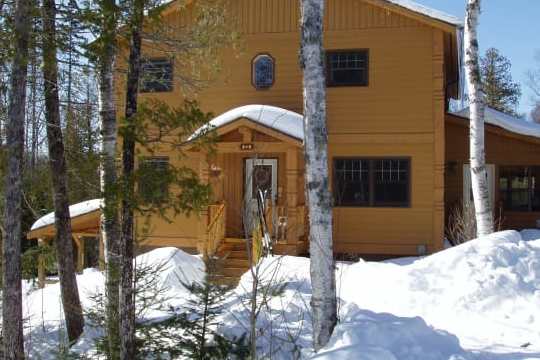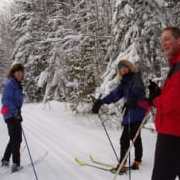 Canoeing Adventures in the Boundary Waters Canoe Area
Minnesota's Boundary Waters Canoe Area (BWCA) and Superior National Forest are without a doubt the world's premier canoeing destination-- over a thousand wilderness lakes and twelve thousand canoe routes. The area's boreal and pine forests provide a majestic green backdrop to the clear blue BWCAW lakes. Canoe past massive granite palisades towering high above the lakes and along rivers and creeks with rapids and waterfalls cascading between lakes.
BWCA CANOE OUTFITTING, we also specialize in customized outfitted canoe trips for small groups. Our fifty years of BWCA canoe guiding experience is put to work for you in planning and outfitting your canoe adventure. All our trips are geared to your interest and abilities, from novice to expert.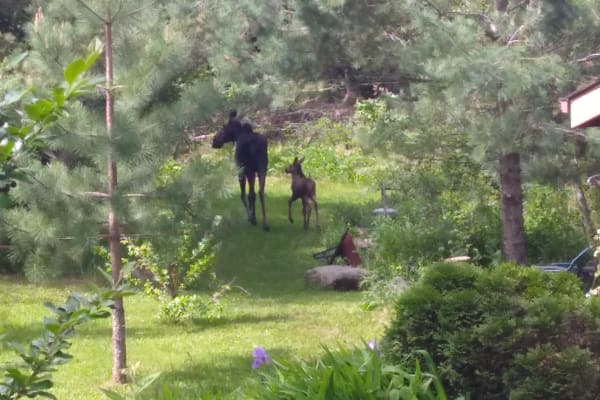 Mother Moose and calf strolling through Guesthouse yard
Wildlife abound in the Area. While moose were going down in number they are coming back and we see them regularly around our area. Other animals you may catch a glimpse of are Timber wolves, beavers, otters, fox, bear and even a few deer.
Of course the forest is home to many kinds of birds. Many call it a bird watch paradise.
Mother Moose and Calf in walking through Guesthouse yard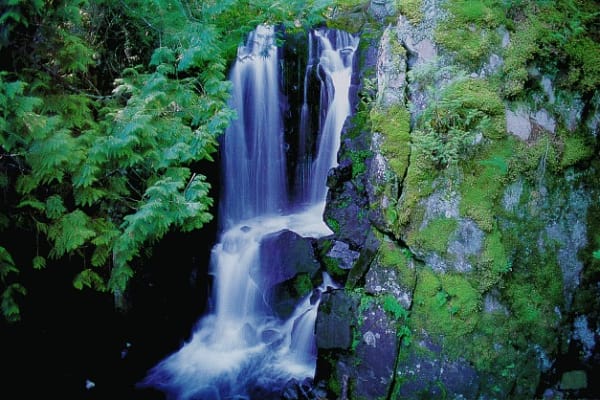 Canoe to Rose Lake Falls located along tihe Canadian Border
Among the many beautiful canoe trips is the stairway portage at Rose Lake with its waterfall and towering overlooks above the lake and views of Canada. You can also hike into Rose Lake or choose from dozen of other hikes along the Gunflint Trail.
In winrter ski the Banadad- the BWCA's longest tracked trail or any of the 180 km of tracked ski trails the Gunflint Trail has to offer. As for snowshoe-this is almost unlimited in the area.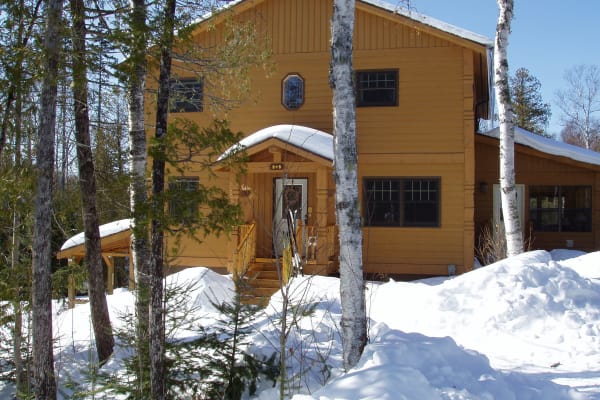 Front entrance to Guesthouse
Poplar Creek Guesthouse B&B Open Year Round
Comfortable, secluded Bed and Breakfast adjacent to the BWCA on Gunflint Trail near Grand Marais. Quiet canoe only lake-canoe, fish, swim. Whirlpool, fireplaces, WiFi, guests kitchen. Skiing, snowshoeing, biking hiking trails on site. Birding, wildlife & moose viewing.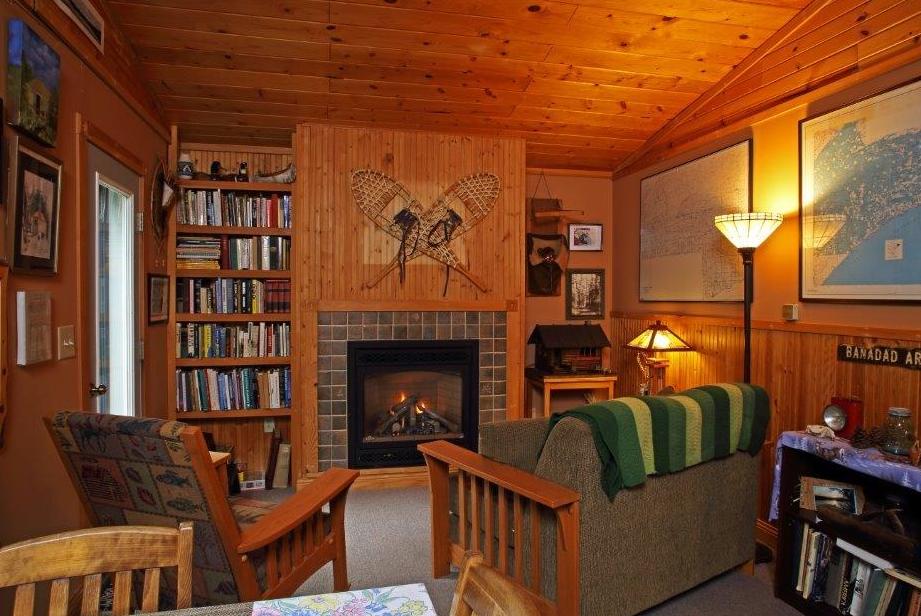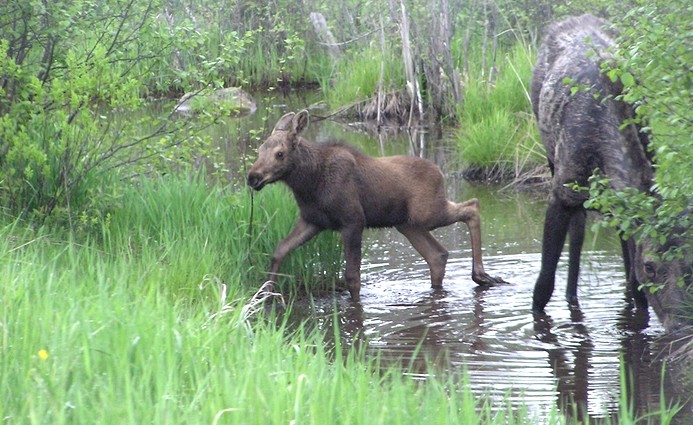 Wildlife viewing- Moose viewing, birding areas and more
Summer Canoe Rental; free use of pedal and row boat
Winter snowshoe rental- 4 miles of trails beginning right at our front door
Skiing- 41 kilometers of classical groomed trail starting at our front door- ski the Banadad Ski Trail - the Boundary Waters Canoe Area (BWCA) longest track trail
Snowshoeing (6 miles regular hiked and endless trails within the BWCA and Hiking Trails starting at our front door
BWCA Canoe BWCA entry points from our dock- Poplar Lake where we are located has four entry points.
Good bass, northern and walleye fishing in our lake
Swimming
Learn More
Sign Up Today
Subscribe to our newsletter and be the first to learn about our seasonal promotions and special deals.
By clicking "Sign Up" I agree to the Terms of Service.
TripAdvisor Reviews
We strive to provide an exceptional level of service for every guest, and are proud to have a 5-star rating on TripAdvisor.
View Reviews